Spotlight on: Leukaemia and Lymphoma Treatment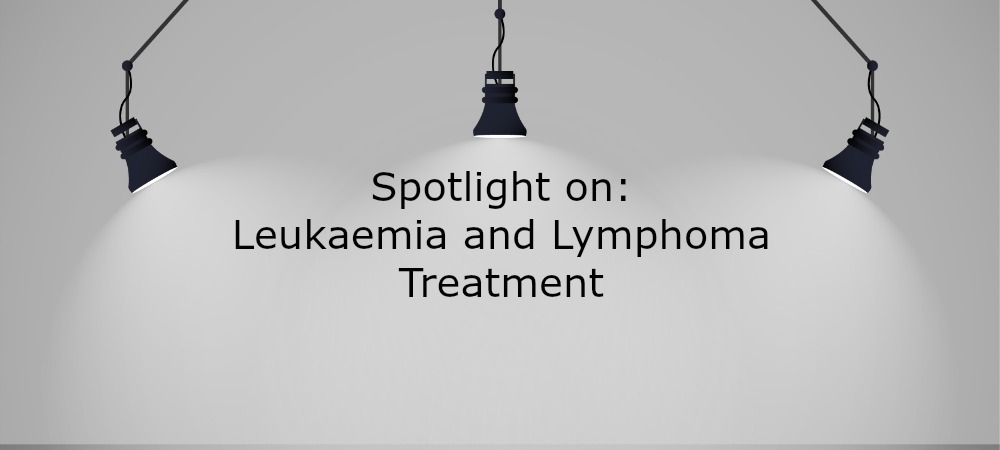 Research into innovative therapies for blood cancers is making remarkable progress, opening up exciting new avenues in the fight against the disease.   
Blood cancer is an umbrella term for cancers that alter the production and development of blood cells. Lymphoma and leukaemia are among the most common of these cancers.
They differ from one another; lymphoma starts in the lymphatic system and mainly develops in the lymph nodes and spleen, whereas leukaemia begins in the bone marrow and then spreads to the bloodstream and other parts of the body.
But they have one thing in common: for both conditions, recent advances in research and development are broadening treatment choices like never before.
Non-myeloablative transplants
For example, for some patients with lymphoma or leukaemia ablative allogeneic stem cell transplantation is a traditional treatment option.
It involves destroying cancer cells in the bone marrow with very high doses of chemotherapy, with or without radiation, and then giving the patient donor stem cells via intravenous infusion.
Researchers at the Fred Hutchinson Cancer Research Center, Seattle, have developed a new, non-myeloablative stem cell transplant, which uses smaller doses of chemotherapy and radiation and is, therefore, less toxic.
Also called mini-transplants, non-myeloablative interventions may allow more patients to receive stem cell treatment, particularly those who cannot tolerate it because too old or ill.
This was demonstrated, for example, in a study appeared in the Journal of Clinical Oncology, in which patients with Hodgkin lymphoma (HL), non-Hodgkin lymphoma (NHL), leukaemia or other blood cancer, the majority of whom were 60 years or older and had multiple serious conditions, were able to receive non-myeloablative transplants.
CAR T-cell therapy
Research is also focusing on innovative ways to stimulate the immune system to fight lymphoma and leukaemia.
These include a broad range of treatments collectively referred to as immunotherapies.
Among the most promising is a procedure called Chimeric Antigen Receptor (CAR) T-cell therapy, in which immune cells removed from the patient are genetically engineered to recognise and kill cancer cells, and then reintroduced into the patient's blood.
Early this year, scientists from the Moffitt Cancer Center, Florida, released the preliminary results of a phase I clinical trial conducted on patients with non-Hodgkin lymphoma, the most common type of lymphoma.
These show that treatment with a type of CAR T-cell therapy, known as KTE-C19, resulted in 60 per cent of patients achieving complete response (the absence of cancer after the treatment is complete, also called remission) within one month of treatment.
The benefits were long lasting, with 43 per cent of patients remaining in full remission after one year.
Frederick Locke, one of the study authors, reports in a statement that "the overall and complete response rate in this small group of patients is remarkable, as the expected complete response rate for such patients is 8 percent with conventional chemotherapies."
Other research has been conducted on adults and children with relapsed or refractory acute lymphoid leukaemia (ALL). (Relapsed means the cancer has returned; refractory means cancer that does not respond to treatment.) It shows that treatment with CART T-cell therapy is associated with complete remission rates of 90 per cent.
Immunotherapy medications
Several novel immunotherapy medications, including monoclonal antibodies and checkpoint inhibitors also promise to advance the treatment of lymphoma and leukaemia, by boosting the immune system against cancer cells.
A recent addition to the toolbox of monoclonal antibodies for both conditions is obinutuzumab.
The National Institute of Health and Care Excellence (NICE) recommends the new drug as a possible option for some patients with untreated chronic lymphocytic leukaemia (CLL).
The agency is also developing guidance on the use of obinutuzumab in patients with follicular lymphoma (a type of non-Hodgkin lymphoma).
Others monoclonal antibodies are under development.
These include IMGN529 and BI 836858, for the treatment of non-Hodgkin lymphoma and acute myeloid leukaemia (AML), respectively. IMGN529 and BI 836858 are being tested in two separate phase II clinical trials, in various centres across Europe and the US, some of which are still recruiting patients.
A new promising checkpoint inhibitor currently being assessed for Hodgkin and non-Hodgkin lymphoma is nivolumab.
This novel drug is not licensed in the UK for these conditions, but some patients with the Hodgkin form of the disease may be able to receive it at no cost through the Early Access to Medicines Scheme (EAMS).
In a recent study, published in The Lancet Oncology, 66.3 per cent of 80 HL patients treated with nivolumab showed a reduction in tumour size; seven patients achieved complete remission and 46 had partial remission (a reduction in tumour size of at least 50 per cent).
Nivolumab is also being studied for the treatment of leukaemia.
One clinical trial is currently testing the drug in patients with AML, to eliminate remaining cancer cells after chemotherapy and to prevent the cancer from returning. Another clinical trial is being conducted on CLL patients, whose cancer has returned or does not respond to treatment.
Both trials are enrolling patients.
Alivia Cancer Second Opinion Service
Through our innovative second opinion service, we can help you get access to the most exciting new cancer treatments and find the most decorated and highly specialised cancer surgeons and oncologists in the world to review your illness.
Read more about Alivia's Cancer Second Opinion Service.
Commenting on the latest advancements in blood cancer treatment, ALIVIA UK's managing director, Richard Kensett, says "they are a testament to the extraordinary progress made in recent years. Patients and the wider cancer community are now one step closer to benefit from truly innovative therapies that promise to improve the treatment landscape of the disease."
Creatives designed by freepic.com